May 9, 2023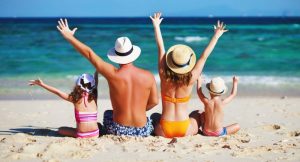 The kids are out of school, and the temperature has shot up—it means that summer is finally here. You have big plans you've been looking forward to, and it's almost time to enjoy it. Before you start packing and drive or fly to your destination, make sure you make a visit to the dentist.
How could a dental appointment help you prepare for your summer vacation? It allows you to do the following.
Lower Your Risk of a Dental Emergency
Of all the times something can go painfully wrong, you don't want it to happen during your vacation. Dental emergencies are not always preventable, but most are, and many develop over the course of several months.
Getting your teeth checked out before you leave ensures that any tooth decay or damage is identified and taken care of before it causes you pain at an inopportune moment. As a result, you can optimize your vacation time having fun, relaxing, or doing whatever you want instead of dealing with a dental emergency!
Enjoy Peace of Mind
If you're like many travelers, you may put together a list of all the things you need to pack so you don't forget anything important. After all, you don't want to get to your destination unprepared or without the essentials. A dental visit can make you feel more confident going ahead with your vacation because your dentist should find any existing problem and prevent future ones from developing.
Getting your checkup and cleaning appointment done prior to your vacation, you don't have to worry about your oral health. Of course, you'll still need to pack and use your toothbrush, toothpaste, and floss, but you won't have to wonder if a bad toothache will ruin your plans.
Have a Brighter Smile
Not only does a semi-annual in-depth cleaning stop future cavities from forming, but it also removes superficial surface stains. In other words, your teeth are polished, and they may be slightly whiter as a result. When you leave for your vacation, you can enjoy having a brighter, more confident smile for all of the photos you may take to remember your experience.
Although caring for your teeth probably isn't the top priority in your preparations, make time to get a dental checkup and cleaning done before you depart. While you explore, visit new places, and spend time with loved ones, you can focus on your experiences and not your smile.
About the Practice
At Dental Expressions, Dr. Bob Heil and Dr. Heather Heil take advantage of technology to detect cavities and weak spots on teeth. Using DIAGNOdent, they can find areas where decay could harm enamel and address the problem before it seriously harms the patient. We are also in-network with most major PPO dental insurance plans, including Blue Cross Blue Shield, Aetna, Delta Dental Premier, and United Healthcare. If you would like to schedule an appointment with us, contact our Freedom office online or call us at 920-788-6280.
Comments Off

on 3 Ways a Dental Visit Can Help You Prepare for Your Summer Vacation
No Comments
No comments yet.
RSS feed for comments on this post.
Sorry, the comment form is closed at this time.