February 9, 2023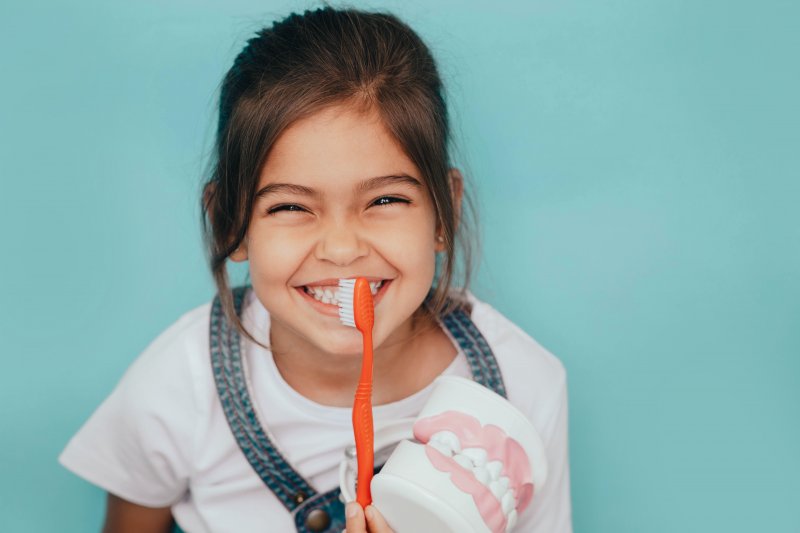 It can be a little bit of a struggle to get your kids excited about brushing. For them, mint may be an unpleasant flavor, and brushing for two minutes can almost feel like an eternity.
However, the dental habits your child is able to form now will help them protect their teeth throughout the rest of their life. If your child has trouble with their brushing, there are many companies that actually make products that can make kids invested in their oral health. Here are a few examples.
Electric Toothbrush
It's recommended that toothbrushes be replaced every 3-4 months, so why not swap your child's for one that could make them enjoy their brushing more? Electric toothbrushes can clean teeth much more effectively than their manual equivalents, which makes them ideal for children who aren't as dexterous as grown-ups.
That might be why there are so many electric toothbrushes designed specifically for children. Your child can get one decorated with their favorite character, that plays their favorite music, and even some that connect to an app that turns brushing into a game!
Brushing Timer
As was hinted at earlier, lots of kids have serious problems brushing their teeth for the recommended two minutes. Thankfully, there's a wide variety of electric timers that can talk your child through the process and let them know when they're finished. These come in all kinds of shapes and colors, so you can let your child pick out one that they'd prefer.
Oral Irrigator
Lots of kids have trouble with flossing; not only does it take patience, but dental floss also requires a lot of dexterity to even use properly. Oral irrigators are small hoses that use water to clean between the teeth. They're just as effective as floss, but significantly easier for children to use. Children's oral irrigators will also often come with stickers so that they can make it their own!
With these products, your child will probably be more excited than ever to keep their teeth clean, which will make your job as their parent that much easier.
About Our Practice
If you're looking for incredibly experienced dentists who can make use of the latest in dental technology to treat just about any issue you could be facing, we at Dental Expressions are happy to offer that to you. Drs. Robert and Heather Heil have both been practicing dentistry for well over a decade, so between them, they have the experience necessary to get you to immaculate oral health.
If you have any questions about taking care of your children's oral health, we can be reached at our website or by phone at (920) 788-6280.
Comments Off

on 3 Products That Can Get Kids Excited About Oral Health
No Comments
No comments yet.
RSS feed for comments on this post.
Sorry, the comment form is closed at this time.