January 18, 2021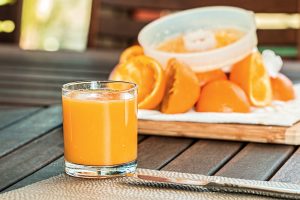 Many diets are said to offer a variety of benefits, like weight loss and detoxification. Although they claim to help you reach a healthier lifestyle, your dentist in Freedom warns of possible negative side effects for your oral health. Here are 3 fad diets that can leave a lasting mark on your smile if you're not careful.
1. Juice Cleanses
Many people turn to all-juice diets to detoxify their digestive systems. The cleanses involve only drinking fruits and vegetables. Although they may appear healthy, medical professionals say it isn't necessary to detox your digestive tract. In addition, they don't contain fiber or vital nutrients your body needs to stay healthy. Unfortunately, your nutrition isn't the only thing to suffer the consequences of juice diets. Your teeth can also be affected.
Many juices are high in sugar and acid, which can erode your enamel. If the hard outer layer of your tooth thins, you'll have a heightened risk of cavities and tooth sensitivity. Since juices don't contain adequate calories, the collagen fibers supporting your teeth can weaken, which can lead to tooth loss.
2. Raw Food Diets
Raw food diets are common because they don't contain preservatives or harsh chemicals. Although the foods are healthier than many that you'll find on the store shelves, they can ruin your teeth. Several of the foods in the diet are fruits, nuts, and seeds.
Besides the risk of decay from the sugars in fruits, seeds can get caught between your teeth, which can be difficult to remove. As a result, it encourages bacteria growth that can lead to infections. Eating hard nuts can also increase the likeliness of a broken or fractured tooth.
3. Small Meals
Eating several small meals throughout the day can help curve hunger pangs. Unfortunately, the more often you eat, the more vulnerable your teeth are to complications. Research shows your teeth are susceptible to damage for up to 1 hour after you eat.
Eating frequently increases the likeliness of enamel wear. If you must eat multiple meals throughout the day, it's best to brush your teeth well afterward. If you can't get to your toothbrush, rinse your mouth with water to cleanse your teeth.
Invest in a Healthy Mouth and Body
Your diet is influential to more than just a trim waistline. The foods and drinks you consume are also crucial to a healthy smile. Your dentist recommends eating a balanced diet that's limited in sugars and starches. Don't forget to maintain your oral hygiene at home to keep your teeth and gums healthy. If you have any questions about your diet's effects on your dental health, discuss them with your dentist during your next preventive visit.
About Dr. Heather Heil
Dr. Heather Heil earned her dental degree at the University of Minnesota School of Dentistry before joining the team at Dental Expressions. She strives to educate her patients about their oral health to help them make the best decisions for their smiles. If you need an appointment, contact our office today to schedule an appointment.
Comments Off

on 3 Fad Diets that are Bad for Your Teeth
No Comments
No comments yet.
RSS feed for comments on this post.
Sorry, the comment form is closed at this time.